Yes, Botox can get rid of frown lines. Permanent frown lines can make you look tired, angry, or stressed out, even when feeling your best. And no matter how awesome your skincare routine, it will take more to eliminate those pesky 11's than a topical serum. Cosmetic injectables like Botox are a great solution for this common skin concern. We are proud to offer Dallas Botox treatments to combat frown lines for a more youthful and rested appearance.
Repeated facial expressions such as squinting, smiling, scowling, or raising an eyebrow can etch deep lines in your skin. The skin loses elasticity with each passing year, making these wrinkles visible even when your face is at rest. Frown lines–those two vertical wrinkles between your brows–can show up in your 20's. Other factors like UV exposure or tobacco use can also contribute to these bothersome lines, known as the "11's."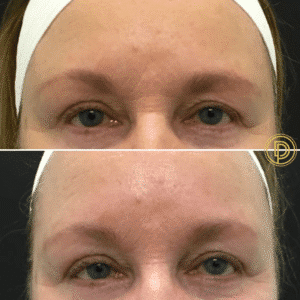 How does Botox for frown lines work?
You can get rid of frown lines for up to three to six months with Botox injections. This FDA-approved neuromodulator has a 30-year track record and can be safely used to smooth out deep 11's. Botox on frown lines works by temporarily blocking the nerve signals that cause muscle contractions. This relaxing effect on the injected muscles means you can no longer furrow your brow when squinting or frowning. As the muscles relax, the frown lines diminish, taking years off your face without surgery or downtime.
How long does it take?
In general, a Botox treatment for frown lines lasts around ten minutes. Our dermatologists will clean the skin, apply a topical numbing cream, and administer several injections with a tiny needle into targeted muscles.
Will Botox 11 lines hurt?
Botox injections are relatively painless. Most patients experience a slight pricking sensation that lasts just a few seconds.
What side effects can I expect?
The skill and experience of your Botox injector will play a large part in any Botox side effects. Our board-certified dermatologists are highly trained in all facets of cosmetic injectables, meaning less chance of adverse outcomes. The most common side effects are pin-point bleeding at injection sites and mild bruising. Our patients can resume their normal activities immediately.
When can I expect to see results?
After getting Botox on 11 lines, you will see mild improvements in frown lines in 3-4 days, with maximum results after a full week. Our dermatologists take a conservative approach to Botox for frown lines, ensuring a natural-looking result that preserves some muscle movement.
How long will Botox last on my frown lines?
The proteins in Botox will naturally wear off in 3-6 months. The beauty of this injectable is that with routine treatments, you can slow the development of wrinkles and frown lines that form with age.
Botox for 11's in Dallas
Botox is the number one non-invasive treatment for frown lines for good reason. In qualified hands, this wrinkle-smoothing injectable promises beautiful, natural results. For more information, book your Dallas Dermatology appointment today.