Botox has become a useful component in managing the symptoms of Temporomandibular Joint (TMJ) disorder. Characterized by tenderness of the jaw, headaches, and uncomfortable chewing, TMJ disorder can make life difficult. Botox for TMJ breaks the chronic pain cycle, improving symptoms in more than 90 percent of people who have not responded to traditional treatments.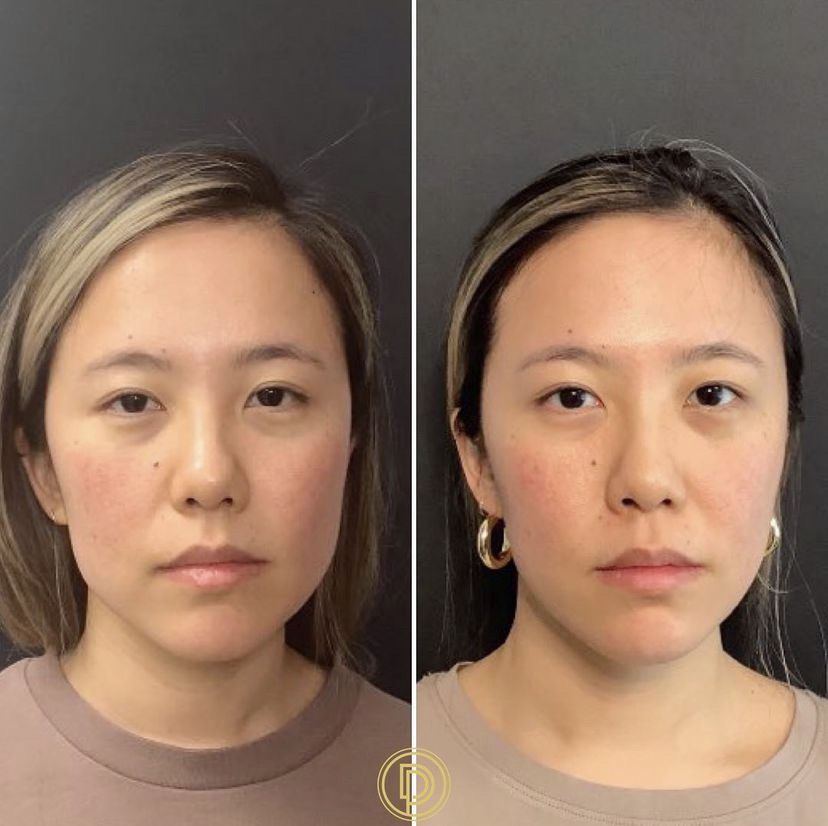 In addition, individuals who clench or grind their teeth may notice soreness in their jaw and development of a more masculine appearing jawline and square shaped contour to the face. Musculature can affect facial shape and when we chew gum or grind or clench our teeth regularly, the masseter muscle may become chronically contracted and enlarged resulting in a square, masculine appearing jawline. Botox or Dysport can help achieve a more feminine facial aesthetic with a more oval or V-shaped face.
Botox treatments are usually synonomous with cosmetic enhancement, however the same action that smooths wrinkles and age-related furrows help alleviate jaw tension and muscle spasms. Dallas Dermatology Partners is pleased to offer this alternative, non-surgical treatment for sufferers of TMJ and teeth clenching.
Some 10 million Americans suffer from temporomandibular joint disorder. While the exact cause of the condition is often hard to pinpoint, the symptoms can range from mild to severe and include:
Unilateral or bilateral jaw pain
Aching pain around the ear
Lockjaw
Masseter muscle stiffness
Limited mobility of the jaw
Pain in the neck and shoulders
Chronic headaches
Popping or clicking noises from the jaw joint
Small amounts of Botox are injected directly into the masseter muscle used for biting, chewing, speaking, and facial movements. The neuromodulator temporarily relaxes the muscle, preventing unconscious or stress-induced teeth grinding and jaw movement.
The treatment takes less than 10 minutes and involves three to five targeted injections on each side of the jaw. Most people notice lessening pain and tension within a couple of days and see full effects in 2 weeks.
Botox generally lasts four to six months. Our dermatologists advise patients to schedule follow-up treatments when TMJ symptoms begin to return. The effects of Botox last longer with routine injections, meaning fewer trips for touch-ups.
Patients who have tried other methods-- such as medications and night guards-- for TMJ relief without success and who are still dealing with involuntary bruxism, jaw discomfort, and tightness in the muscle may be good candidates for Botox injections.
Botox Cosmetic has a robust, 20-year safety record, and millions of patients are successfully treated with the neuromodulator every year. Botox provides significant relief from jaw tension, headaches, and other symptoms associated with Temporomandibular joint disorders, and it's been approved by the ADA (American Dental Association) for this very purpose.
Recovering from Botox TMJ Disorder Treatment
This is a non-invasive treatment with no downtime so that patients can resume normal activities immediately. Aftercare is simple, patients are advised to:
Keep their head elevated for 2 hours
Avoid strenuous physical activity for 24 hours
Avoid pressure on the injection sites for a few hours
TMJ Botox Specialist in Dallas
If you have questions about TMJ Botox treatment or would like more information on Botox for masseter muscle relaxation, we invite you to reach out to Dallas Dermatology Partners. Our team is thrilled to offer this non-invasive option to men and women who have not found relief from painful TMJ symptoms using other methods.