Dallas Dermatology Partners is proud to offer our clients the latest skincare technology. For those looking to correct years of sun damage, nothing compares to the Halo laser. This revolutionary laser resurfacing treatment improves visible signs of aging using intelligent energy delivery.
A single Halo laser treatment revitalizes photo-aged skin with minimal discomfort and downtime. Whether you are bothered by fine lines, hyperpigmentation, or texture, each Halo session is customized for optimal results.
BBL Halo Laser Before & After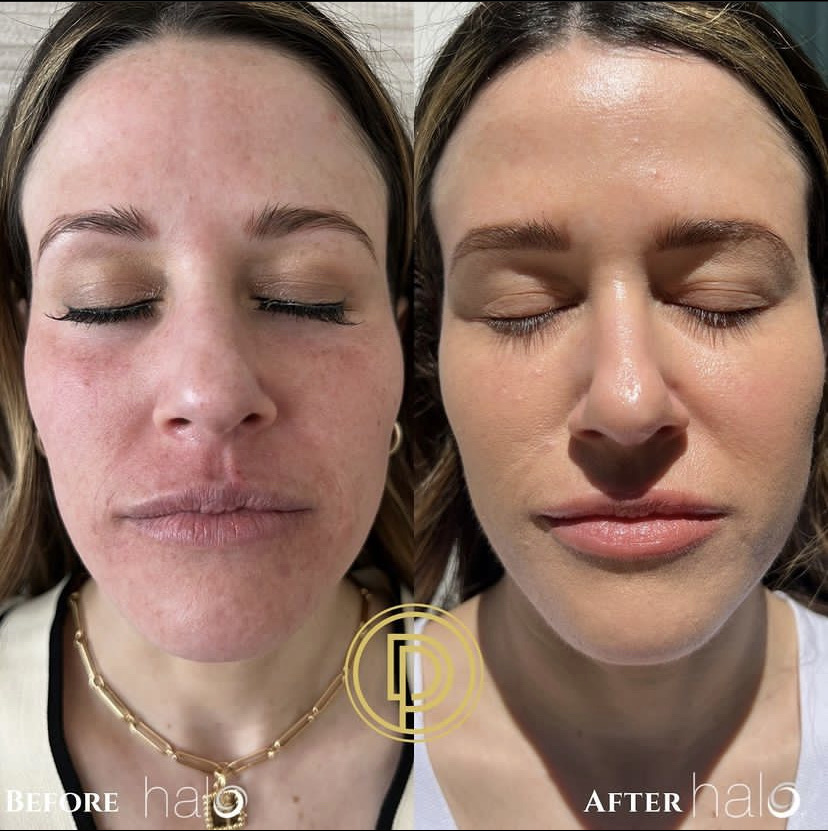 The Halo by Sciton is a Hybrid Fractional Laser that combines ablative and non-ablative energy wavelengths to stimulate new skin cell and collagen production. Halo's precise, adjustable beam placement allows our dermatologists to fine-tune microscopic treatment zones. This allows for unparalleled improvement in the look and feel of mature and sun-damaged skin. Enjoy quicker recovery times and vibrant, smooth skin with the Halo hybrid fractional laser.
The Halo fractional laser has a synergistic effect by using ablative wavelengths that remove the outer layer of skin and non-ablative wavelengths that heat underlying tissue. Think of it as two state-of-the-art lasers in one. Both processes stimulate the body's natural healing response to produce healthy new tissue and collagen. As the skin recovers from the laser treatment, it becomes healthier, smoother, tighter, and with fewer signs of UV damage.
The dual-wavelength Halo laser features an optical navigation system. It synchronizes pulse delivery with treatment speed. This provides audible and visual feedback to ensure precise results when treating multiple skin concerns, including:
Uneven skin tone
Dark spots and discoloration
Fine lines and wrinkles
Laxity
Scars
Actinic keratosis
Enlarged pores
Rough skin texture
Dyschromia
Melasma
Every treatment is calibrated to the temperature of the patient's skin, making this hybrid fractional laser one of the safest, most effective, and most comfortable laser resurfacing options available today.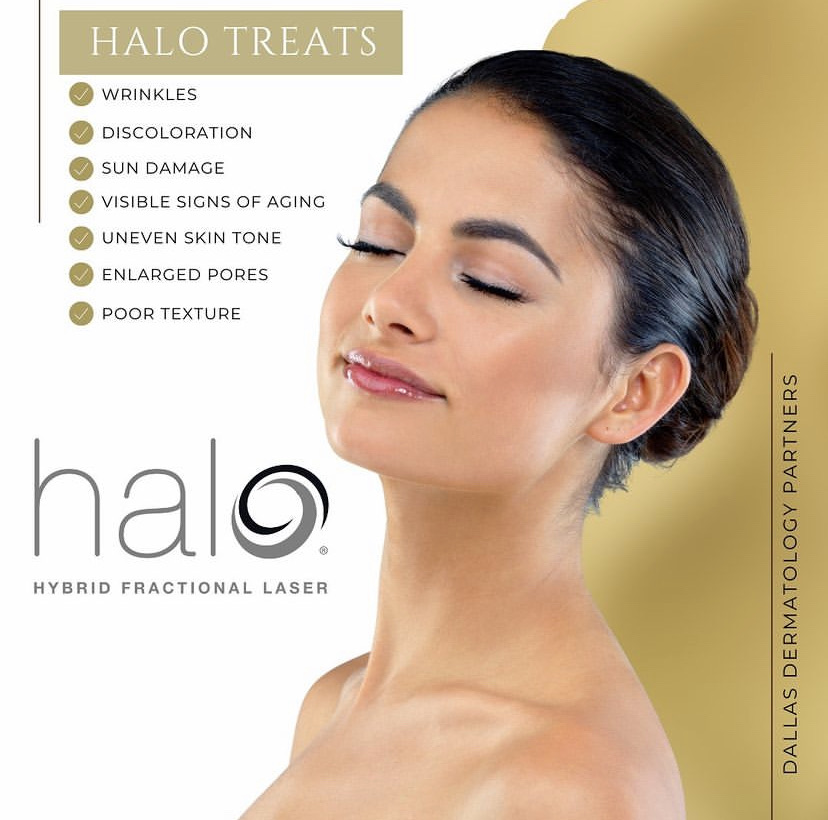 The BBL Halo laser treatment is safe for most skin types and can be used to rejuvenate both face and body. Treatable areas include the face, neck, chest, décolletage, arms, and legs.
A topical anesthetic is applied to the treatment area 30-45 minutes before the laser resurfacing. Since the Halo handpiece has cooling technology, patients experience minimal discomfort, often described as a slight pricking sensation.
The following are approximate treatment times with the Halo hybrid laser:
Face – 15 to 30 minutes
Neck – 15 minutes
Hands – 15 minutes
Chest – 20 minutes
Other parts of the body – 25 minutes to an hour
After resurfacing with the Halo laser, the skin will feel warm or sunburned for another 30 minutes or longer, depending on the intensity of the treatment. The most common side effects are redness and swelling, which can last for several days. The skin will develop a bronzed appearance and begin to peel after a few days. Allow yourself at least 3 -6 days for downtime after the Halo treatment.
The majority of patients see initial improvements in tone, clarity, and texture about three days after the Halo laser procedure. However, this can vary depending on the depth of the laser treatment. Over the following days and weeks, there will be continued improvements in pigmentation and firmness as the skin heals and new collagen is produced. Dark spots, acne scars, and fine lines will fade as the skin takes on a more youthful appearance, known as the "Halo glow." With proper UV protection, these results can last for several years.
One of the many benefits of Halo's dual laser technology is its precision and effectiveness. Dramatic results are often achieved with a single Halo treatment. However, some people will benefit from two or three resurfacing sessions spaced several months apart.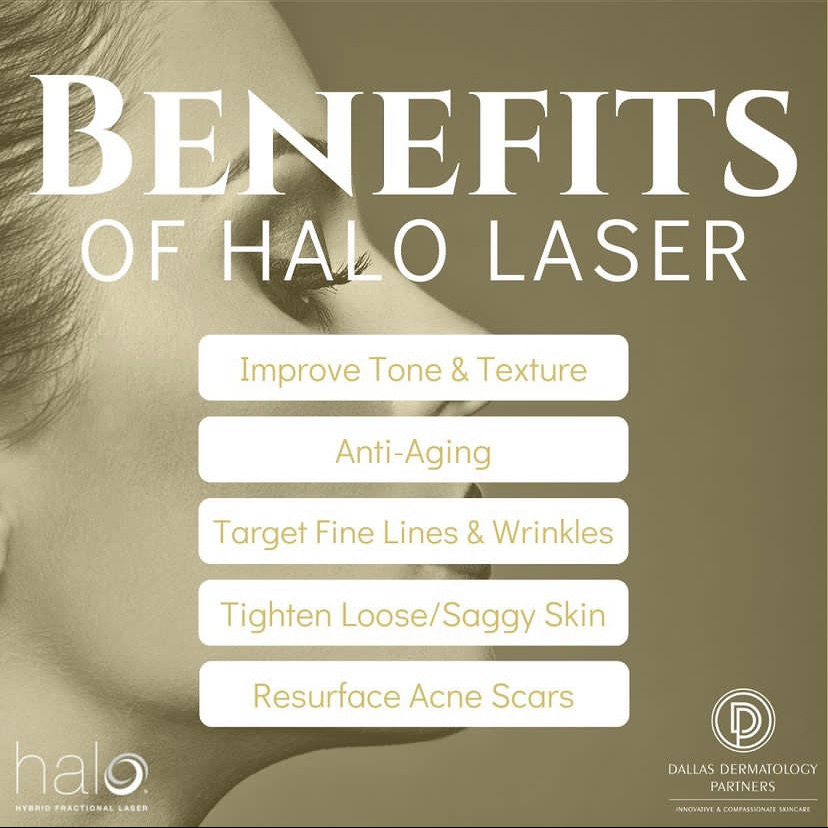 Get the Halo glow in Dallas
There are many skin resurfacing options for achieving a healthier, more luminous complexion, but none offers the hybrid technology of the Halo by Sciton. Ready to get your Halo glow on? Get started by booking your Dallas dermatology appointment today.