At Dallas Dermatology Partners, we help patients achieve healthy, youthful-looking skin with proven laser technology. Fine lines, sun damage, uneven tone, acne scars, age spots, and other skin conditions can be improved with targeted laser treatment. Whether you're looking to correct redness, rough texture, or hyperpigmentation, we have the right tools to ensure outstanding results. Laser resurfacing, along with Broadband Light (BBL), are some of the most effective rejuvenating procedures available.
We offer a variety of cutting-edge treatments that can be fine-tuned to create specific improvements in skin tone, texture, clarity, and firmness.
Laser Skin Treatments We Offer
Each laser device delivers wavelengths of energy or broadband light to target skin imperfections and trigger collagen production. As a result, treatments are precisely calibrated depending on skin type, specific conditions, and desired results.
The Contour TRL is one of the most effective treatments for those with severe sun damage. This tunable erbium laser is one of the safest and most effective ablative modalities and smooths deep-set lines around the mouth, pronounced creases in the forehead, and crow's feet. In addition, it treats deeper layers of the skin, yielding significant improvements in
Texture
Smoothness
Elasticity
Patients with the following conditions can benefit from this: 
Sunspots
Hyperpigmentation
Acne scars
Rhinophyma
The Halo is a revolutionary hybrid laser that uses ablative and non-ablative wavelengths to revitalize and refresh mature and sun-damaged skin. This resurfacing treatment is safe for most skin types. It effectively treats multiple conditions such as:
Dark spots
Fine lines
Large pores
Scars
Mild skin laxity
Rough texture
Irregular skin coloration
Melasma
Our patients notice improvements in:
Overall skin tone
Skin clarity
Luminous glow
A BBL microlaser peel promises dramatic improvements in:
Skin tone
Clarity
Texture
This treatment can be used on the neck, décolletage, hands, and face. The intensity of each treatment is customized to target common concerns, including:
Acne scars
Deep wrinkles
Textural problems
Sun spots
Pigment irregularities
Keratosis
Depending on the depth of the laser peel, patients should be able to return to their normal routines within 3 or 4 days.
The BBL Photofacial utilizes broadband light to target damaged skin cells and promote collagen remodeling. This treatment is best suited for patients with light to fair skin who want to improve the appearance of:
Brown spots
Vascular redness
Blotchy skin
Freckles
Hemangiomas
Rosacea
BBL therapy can safely be performed on the face, neck, chest, arms, hands, and legs. No downtime and excellent cosmetic results are some of the key benefits of BBL photofacials.
The Sciton Moxi oX5 is the only laser treatment that can safely treat all skin types for post-inflammatory pigmentation (PIH). It is a fractionated, non-ablative laser that addresses a variety of skin conditions, including:
Unwanted pigment
Dull skin
Fine lines
Enlarged pores
Melasma
Uneven skin tone
Rough texture
Early signs of photo-aging
It is a great option for patients of all ages, as it revitalizes and improves skin tone and texture with minimal downtime.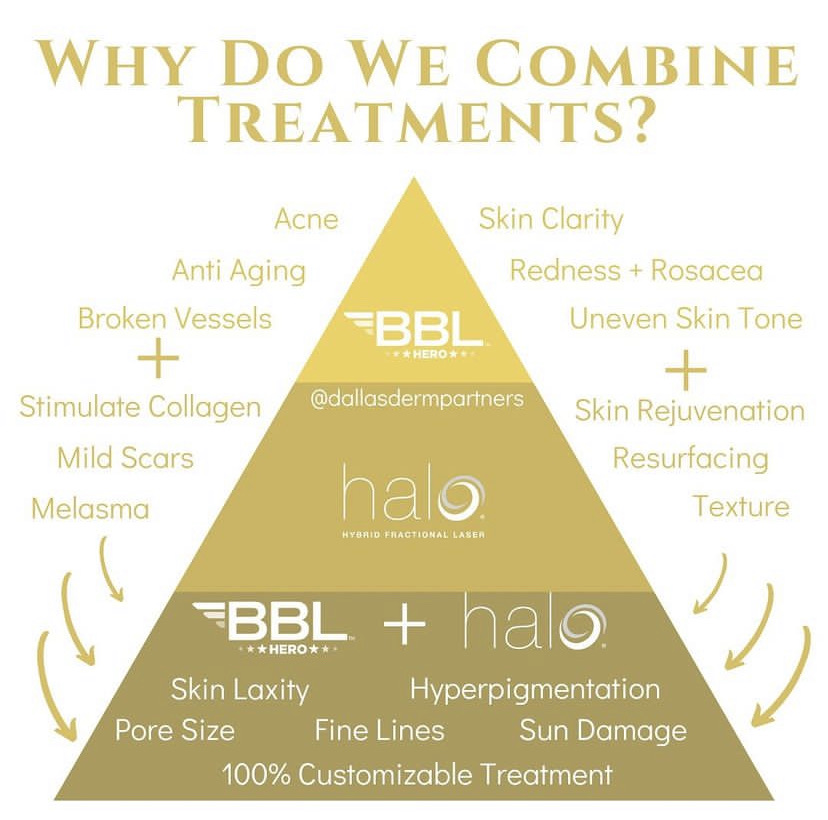 Custom Laser Skin Treatment In Dallas
Ready to brighten and refresh your skin's appearance without surgery or significant downtime? Laser skin treatments are one of the easiest and safest ways to reverse the effects of aging while promoting a radiant glow from within. And these minimally-invasive lunchtime procedures can fit into busy lifestyles. Request an appointment today, so we can develop a personalized Dallas dermatology treatment plan that addresses your goals and concerns.