Injectables can help you look and feel your best at any age. Whether you would like to smooth out fine lines, restore facial volume, melt away a double chin, or obtain a subtle lip enhancement, Dallas Dermatology Partners offers a wide range of solutions. The injection of dermal fillers and neuromodulators is an art that requires a skillful eye, and every practitioner has different skill levels and techniques. The goal with any injectable is subtlety. Our board-certified dermatologists are trained in the latest injectable treatments and modalities designed to provide you with natural yet meaningful results.
Different Classes of Cosmetic Injectables
Different injectables have different purposes. Neuromodulators, like Botox, Jeaveau, and Dysport, relax dynamic facial muscles to reduce the appearance of wrinkles. Injectable dermal fillers-- most containing hyaluronic acid-- have a natural plumping action that immediately adds volume and softens creases. As their name implies, dermal fillers fill out underlying tissue and replenish proteins that naturally diminish with age. The result is skin that is more elastic, hydrated, and supple. Once injected, dermal fillers replenish naturally occurring hyaluronic acid that keeps skin hydrated and youthful-appearing.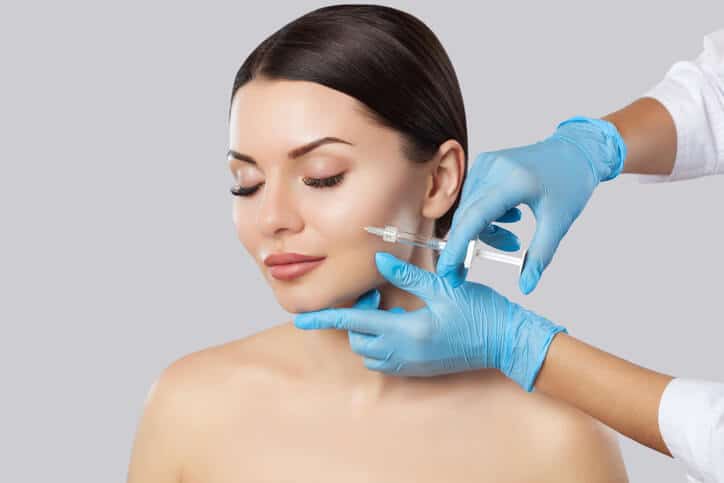 Fillers and Injectables for Wrinkle Prevention and Treatment
The beauty of cosmetic injectables is that they can be used to treat existing wrinkles and age-related volume loss and also prevent them. Many of our patients start injectables in their 30s or earlier to keep the early signs of aging at bay. Starting treatments at an earlier age prevents accelerated aging in the future. Often, patients are not interested in turning back the clock twenty years, but would rather appear to age gracefully as the best version of themselves. Dr. Dickson often quotes one of her favorite mentors, "It is a process rather than a procedure," when discussing injectables with her patients as she strongly believes small amounts and regular visits over time is the best protocol to maintain a natural, youthful appearance. "It is about restoration, not alteration," adds Dr. Dickson.
Depending on your concerns and aesthetic goals, a treatment plan may include dermal fillers and neuromodulator injections for optimum results. At Dallas Dermatology Partners, our patients have several options for maintaining a youthful glow with dermal fillers and neuromodulators, including:
Juvéderm Vycrosse collection - hyaluronic acid fillers that restore contours, smooths fine lines and adds volume, including Juvéderm Ultra, Juvéderm Ultra Plus, Juvéderm Voluma, and Juvéderm Volbella.
Restylane - hyaluronic acid filler that corrects moderate to severe resting wrinkles and creases, such as prominent nasolabial folds, including Restylane-L, Restylane Lyft, Restylane Kysse, and Restylane Refyne.
Radiesse -  a filler made of calcium-based microspheres that smooths moderate to severe facial folds and wrinkles.
Sculptra Aesthetic -  a poly-L-lactic acid-based filler that stimulates collagen production and is excellent for full face rejuvenation as well as non-surgical jaw augmentation, nose reshaping, and targeted face lifting.
Botox, Dysport, and Jeuveau - neuromodulators that eliminate or reduce the appearance of wrinkles with results that last for approximately 4-6 months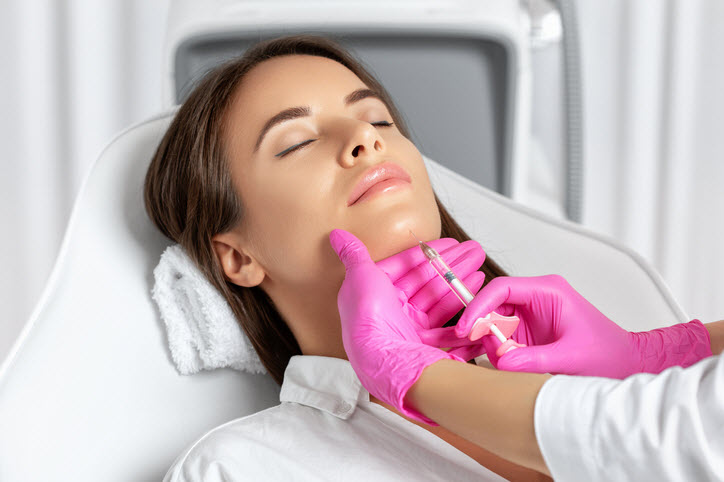 Kybella Injectable for Double Chins
Just as injectable techniques have improved over the years, so have the types of treatments made available. In addition to dermal fillers and wrinkle-smoothing neurotoxins, there is now an injectable that leads to permanent non-surgical removal of the submental fat, commonly known as a double chin.
Kybella is synthetic deoxycholic acid-- a naturally occurring molecule produced by the gallbladder that aids in the breakdown of dietary fat. Injections take less than 10 minutes, and after several sessions, patients will experience a noticeable reduction in fullness under the chin. Kybella can also be used in other areas, such as to reduce the appearance of jowls on the lower face and to eliminate stubborn bra fat.
Cosmetic Injectable Treatments In Dallas
Our dermatologists combine the latest in cosmetic injectables with extensive knowledge of facial anatomy, how the face ages, and aesthetic harmony. Receive a personalized treatment plan by contacting Dallas Dermatology Partners to schedule your Dallas dermatology appointment.