Non-invasive laser rejuvenation is a specialty at Dallas Dermatology Partners, where our focus is innovative skincare. Many of today's laser devices are suitable for all skin types and address a variety of cosmetic concerns. Whether you're trying to correct years of sun damage or "prejuvenate" before deep wrinkles set in, Moxi and Halo laser treatments are excellent options.
Both Halo and Moxi treatments can be customized according to patient concerns, but there are some key differences between these two laser technologies.
Moxi vs. Halo Lasers
Moxi is a fractionated, non-ablative laser that delivers targeted laser energy below the skin's surface to stimulate the body's innate healing process. It is considered a "low-level" laser and is approved for use in patients with darker skin tones (Fitzpatrick Scale IV-VI).
Halo is a hybrid laser that uses ablative and non-ablative wavelengths to penetrate deeper into the dermis. This is a stronger treatment that creates micro-wounds while triggering collagen production. A Halo laser treatment is more aggressive, making it a smart choice for those with more extensive UV damage.
Moxi Laser – Minimal Downtime
If you are hoping for tonal and textural improvements with nominal downtime, then a Moxi laser treatment may be a great option.
Our patients realize impressive results when addressing the following:
Uneven skin tone
Dull skin
Fine lines and wrinkles
Sun damage
Large pores
Rough texture
Melasma
This non-ablative treatment is a wonderful option for busy patients looking to refresh their appearance without an extensive recovery period. Our patients return to their normal routines within 3-4 days after a Moxi laser session.
Halo Laser – Deeper Correction
The dual-wavelength Halo laser corrects deeper wrinkles, skin discoloration, textural problems, and enlarged pores. In addition to treating visible signs of aging, Halo can also improve the appearance of scars. The results of this hybrid laser are dramatic, but patients should expect a longer period of downtime. Most patients are fully healed within seven days of their Halo laser treatment.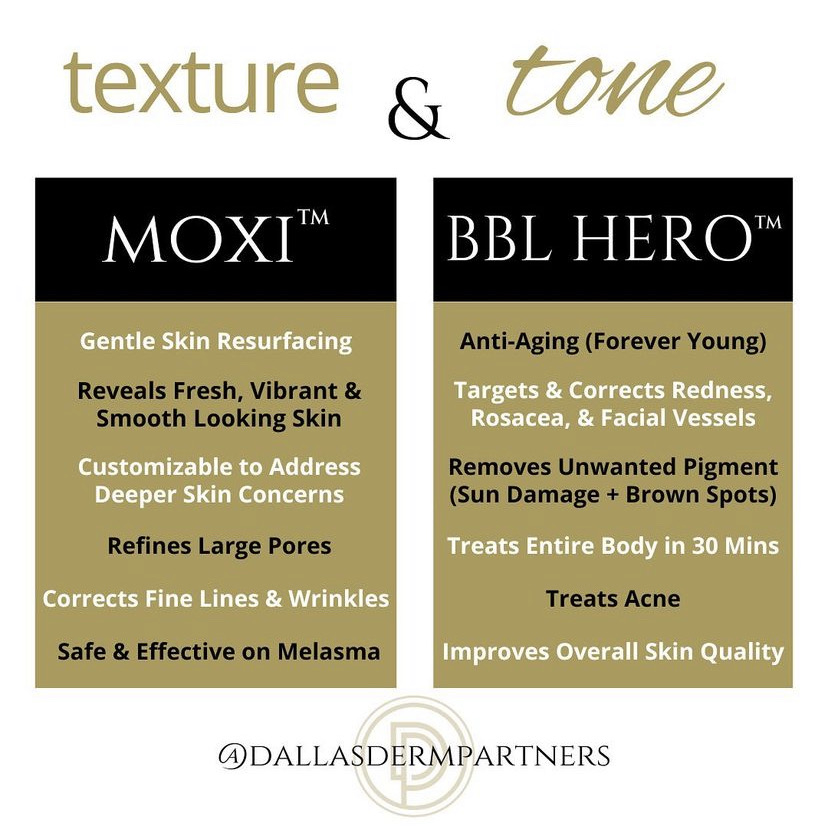 How to Choose the Right Laser Treatment
Moxi and Halo lasers are safe for use on the face, neck, and chest. Both technologies are highly effective and well-tolerated by patients with no anesthesia.
Here are the key differences between the two treatments:
Moxi is a good choice for treating more superficial concerns or maintaining a youthful glow while preventing future UV damage.
If you want to tackle decades of sun damage or stubborn changes in pigmentation, the Halo may be a more suitable option. The major caveat with this rejuvenating laser is the longer stretch of downtime.
Moxi and Halo lasers work wonders independently but can also be combined with BBL treatments to optimize results.
Laser Skin Rejuvenation in Dallas
Our experienced dermatologists will suggest the best laser treatment based on your current skin health and anti-aging concerns. We are dedicated to providing the most personalized skin care in a thoughtful, warm, and innovative environment.
To learn more about Moxi and Halo skin rejuvenation in Dallas, book your laser treatment appointment with us today.