When topical products aren't delivering that glowing, even complexion you desire, it may be time to consider an BBL photofacial. This cutting-edge, in-office treatment can improve a number of common skin concerns with minimal downtime.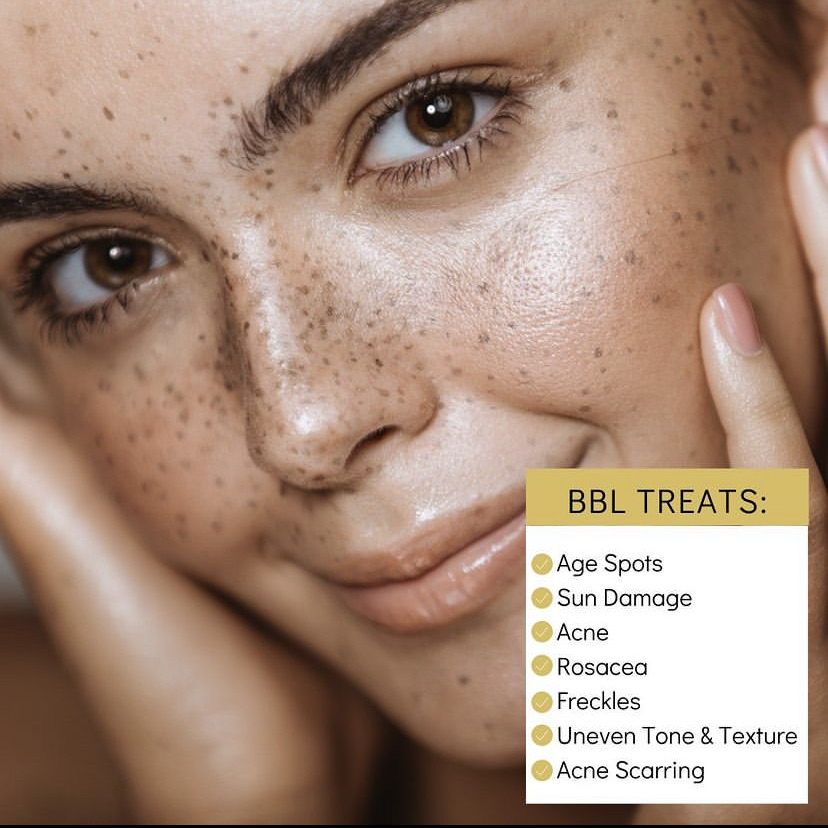 A photofacial is one of the most effective ways to improve the health and appearance of sun-damaged skin. This treatment uses BroadBand Light (BBL) to target damaged cells beneath the skin's surface. These cells are sloughed off for a more even-toned complexion. Since the treatment also triggers elastin production and collagen remodeling, you will begin to notice firmer, smoother, and more radiant skin.
Though BBL is a common procedure for facial rejuvenation, it can also be used on the neck, chest, shoulders, arms, hands, and legs. Whether you want to improve the look of hyperpigmentation, fine lines, or vascular redness, the team at Dallas Dermatology Partners can customize the treatment based on your skin type and aesthetic goals.
Our board-certified dermatologists recognize that every patient's needs are unique and take the time to assess your skin condition and objectives during an in-depth consultation.
Photofacials with broadband light can improve or reverse a number of skin concerns, including:
Brown spots/age spots
Enlarged pores
Broken capillaries and Telangiectasias (spider veins)
Uneven skin tone/ blotchiness
Redness and flushing
Freckles
Hemangiomas
The best candidates for BBL treatments are individuals with fairer skin types who have avoided recent sun exposure. Individuals who tan very deeply and have darker skin tones are not ideal candidates.
Twenty minutes before the procedure, a cool numbing gel is applied to the face. Sometimes, numbing is omitted to prevent vasoconstriction of the blood vessels in order to obtain better results, A hand-held device is gently passed along your skin as it emits pulsed light. The photofacial is not painful, but patients may experience a slight tingling sensation and warmness during the treatment. Depending on your skin concerns, your dermatologist or aesthetician may do several passes with the BBL.
For BBL photorejuvenation of the face, plan on 30 to 45 minutes. The total length of treatment time will depend on the areas of skin being targeted.
Mild redness is normal for the first 24-48 hours post-treatment. Some patients may also experience some slight swelling. However, this treatment has no downtime, and patients can resume normal activities right away.
The risks are rare and can include blistering, second-degree burns, loss of pigment or hyperpigmentation, textural changes, and scarring.
Avoiding sun exposure one month before and one month after treatments significantly reduces these risks. However, you can minimize the chance of an adverse outcome by seeking treatment from an experienced dermatologist.
You should see improvement in texture, pigmentation, and complexion clarity after 4-5 days, with continuing improvements over the next couple of weeks.
This will depend on the level of skin damage, but most people realize maximum benefit from a series of 3-5 BBL photofacials spaced one month apart.
The best way to preserve your results is to limit UV exposure, wear a broad-spectrum zinc-based sunscreen every day, and use quality topical skin care products that support and nourish your skin type. After the initial 3-5 sessions, most patients continue treatments every 3-6 months for maintenance.
BBL photofacials are less expensive than other anti-aging laser treatments; but they still promise healthier, more youthful-looking skin. Please contact our office for pricing.
Consult with a Dallas Dermatologist Today
If you are ready to see significant results– without major expense, discomfort, or recovery time-- schedule your Dallas photofacial today. Our convenient office location serves residents throughout the Dallas/Fort Worth area, including Frisco, Richardson, Plano, and Addison.