Is the skin above your upper lip slightly darker and more pronounced? This shadowy-looking upper lip is commonly called a "melasma mustache," characterized by brown or gray-colored patches. This discoloration can be splotchy, symmetrical, or cover the entire upper lip. Dallas Dermatology Partners share the science behind hyperpigmentation around the mouth and offer a few tips on how to prevent and lighten it.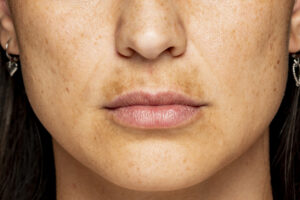 What causes a sun mustache?
The upper lip is a common location for melasma to develop. This condition is more common in women and happens when melanocytes produce more melanin than usual. As a result, concentrated areas of melanin in the epidermis appear darker, and when this hyperpigmentation is above the lip, it gives a mustachioed appearance.
Various factors can increase melanocyte activity and pave the way for a melasma mustache–the most prevalent are:
Excess UV exposure triggers melanin production
Estrogen-based birth control pills
Hormone fluctuations with pregnancy
Certain medications that make the skin more photo-sensitive
Thyroid disorders and some systemic diseases
Family history of melasma
Trauma to the skin
In addition, women with darker skin tones are at higher risk for developing a melasma mustache due to the higher number of active melanin-producing cells.
Best prevention techniques
A good skincare regimen and diligent sun protection are the best way to protect the skin around your mouth from developing excess pigmentation. Avoid sun exposure during peak hours (10 am to 2 pm) and apply a broad-spectrum sunscreen of SPF 30 or greater to shield against UVA and UVB rays that can trigger melanin production.
Dermatologist recommended sun mustache treatments
If you're trying to get rid of existing hyperpigmentation around the mouth, our dermatologists may recommend antioxidant-rich topicals. These will neutralize free radical damage, exfoliate pigmented cells from the skin's surface, and help brighten the complexion. They will also likely prescribe a lightening compound for treatment and maintenance of the discolored patches.
Other effective sun mustache treatment options include:
Chemical Peels – smoother, brighter, and more evenly-toned skin can be achieved with a series of chemical peels designed to address melasma and photodamage.
Melanage Peels – for medium-depth melasma on the upper lip or face, a Melanage Peel can work wonders by accelerating skin cell turnover with prescription-strength acids and retinoids that target discoloration.
Laser Resurfacing – laser therapy is another approach to treat hyperpigmented patches of skin that don't respond to chemical peels or topical treatments. Today's non-ablative fractional resurfacing lasers promise quicker treatments, less risk of complications, and faster recoveries.
If you are looking for a safe and effective way to get rid of hyperpigmentation on the upper lip, talk to a board-certified dermatologist first. Our team can evaluate your skin and suggest treatment options that align with your aesthetic goals. Melasma is often frustrating to treat on your own and can be exacerbated with the wrong products.
Contact us today
For more information about eliminating a sun mustache, please contact us today. Get the beautiful, clear skin you deserve by booking your Dallas dermatologist appointment.