Dealing with pimples as an adult is not unusual. Many women suffer from hormonal breakouts well into their 30s and 40s, which are intrinsically linked to fluctuating levels of androgens. Produced by the adrenal glands and ovaries, testosterone is important for a healthy libido and helps with muscle mass and bone strength.
Increases in male sex hormones like testosterone cause the skin's sebaceous glands to produce excess oil. This type of hormonal acne tends to occur on the lower part of the face and can include painful cysts right around the start of one's monthly cycle.
Many of our patients who seek acne treatment in Dallas are bothered by blemishes that coincide with their menstrual cycles. And for many of these women, birth control pills have been the frontline option for treating hormonal acne. Contact us today for a Dallas dermatology appointment because we have different and often more effective treatment options.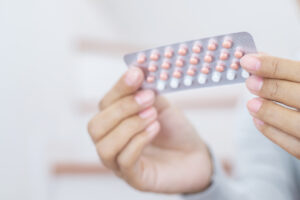 Hormonal acne treatment without the pill
As noted, if you are struggling with inflamed skin caused by fluctuating hormones, there are other ways to keep pimples at bay without taking oral contraceptives. Whether you cannot take them or haven't seen benefits from the therapy, several dermatologist-approved alternatives can be highly effective. We may recommend the following treatments to help you achieve clearer, blemish-free skin.
Oral spironolactone
Spironolactone (Aldactone) is an oral medication that blocks the effects of androgens on the skin. Most women begin to notice less oily skin and fewer breakouts within a month of starting spironolactone, but this treatment can take three months before full results are evident.
Topical clascoterone
One of the newest advances in hormonal acne treatment is WINLEVI topical cream. It is a 1% clascoterone formulation that targets the effects of acne-causing hormones in the skin that cause inflammation and excess oil production. Applied to clean dry skin twice a day, it can help reduce hormonal breakouts within 10-12 weeks.
BBL Forever Clear therapy
Developed by Sciton, BBL Forever Clear is a revolutionary broadband light therapy that treats the root cause of acne – without medication, topical creams, or birth control pills.
Women dealing with hormonal breakouts can see significant improvement in their skin with this quick and painless in-office treatment. BBL Forever Clear uses a combination of blue, yellow, and infra-red light to kill acne-causing bacteria, diminish inflammation and promote the body's healing process. Most patients will benefit from a series of 6 BBL sessions to get clearer, acne-free skin.
Chemical peels
A series of custom formulated chemical peels with key actives like alpha hydroxy and glycolic acids can remove pore-clogging debris that contributes to painful cysts and blemishes.
Hormonal acne treatment in Dallas
If you would like to discuss your concerns with our board-certified dermatologists and receive a customized hormonal acne treatment plan that doesn't include birth control pills, please contact us today. Dallas Dermatology Partners has a central office location, serving residents throughout Dallas/Fort Worth, Addison, Plano, Richardson, and Frisco.