Are you self-conscious about a weak chin or wish you had a better balance in your facial features? Chin filler can be used to correct a number of common concerns and is gaining popularity among our male patients. Before dermal fillers became available, implant surgery was the only way to sculpt the jawline and improve chin shape, size, and projection.
Here at Dallas Dermatology Partners, we can give you a more defined, aesthetically pleasing profile in just minutes using injectable fillers such as Radiesse, Restylane, and Juvederm Voluma. Chin filler treatment is so successful because it is customized to address your specific goals. We select the right product and dose to deliver visible improvements without pain or downtime.
Chin Filler Before & After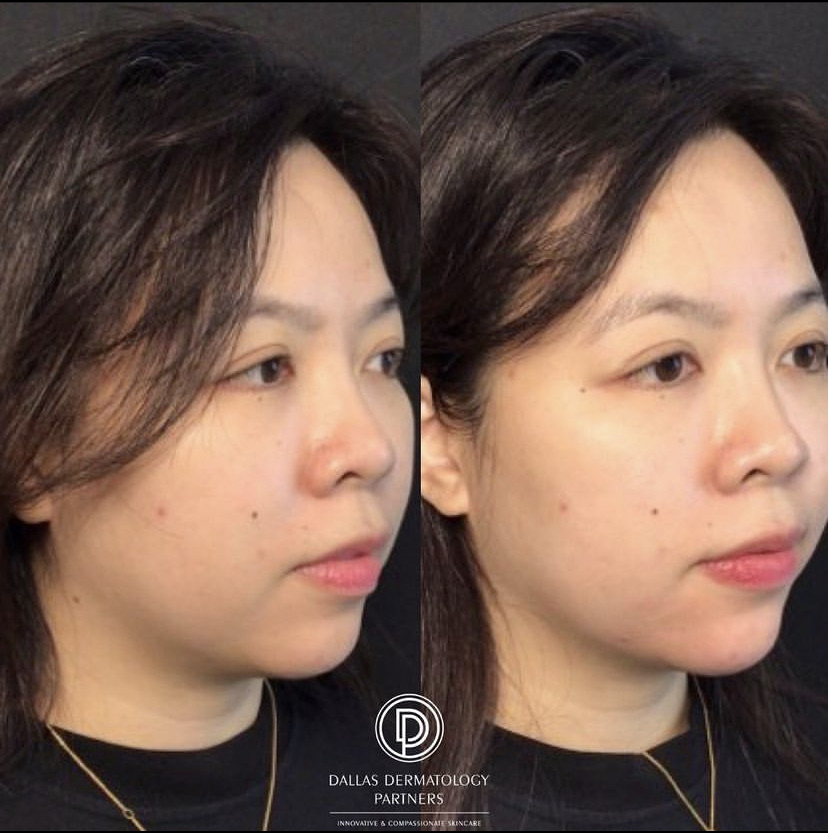 What does chin filler do?
Chin filler is usually composed of hyaluronic acid—a biocompatible substance that our body naturally produces. A few targeted injections can create projection, improve contours, fill in dimples and clefts, and create better facial symmetry.
Am I a good candidate for chin filler?
You may be a great candidate for a non-surgical chin augmentation with dermal filler if you want to:
Correct or improve jawline symmetry
Improve chin height, width, and projection
Enhance the balance of facial features
Correct dimples, a cleft chin, and uneven chins
Strengthen the appearance of a recessed chin
Why is chin filler for men so popular?
Chin filler injections are a much safer alternative to invasive surgery, with the advantage of zero downtime. Men who want to improve their jawline silhouette, fix asymmetry, or create a more masculine profile can achieve natural results without going under the knife.
Is cleft chin filler painful?
Many dermal fillers contain lidocaine, a local anesthetic, so there is minimal discomfort during the procedure. A topical numbing cream is also available. Patients can expect a pricking sensation during the injections, which only last a few minutes.
What are possible side effects?
The most common side effects after chin dimple filler are swelling around the injection site, tenderness, and bruising. The swelling normally resolves in a couple of days as the filler settles. More serious risks like infection can be mitigated by having the treatment with a board-certified dermatologist who is highly experienced in administering cosmetic injectables.
What results can I expect after chin filler?
Most chin fillers will produce immediate results, giving you a stronger profile and better lower facial definition. However, some injectable products may take a few days to show initial changes with continued improvements over the following weeks.
How long does chin enhancement filler last?
Results will depend on the filler for the chin, the dose, and your metabolism. Most chin enhancements with filler will last anywhere from 9 to 16 months.
Non-surgical chin augmentation in Dallas
Chin fillers are an excellent option for men and women looking to boost their confidence without going under the knife. Explore your options for a more sculpted chin and book your Dallas Dermatology appointment today.