Volume loss in facial tissue is a normal part of the aging process. Decreased levels of collagen cause skin laxity and sagging. As underlying tissues thin out, wrinkles, creases, and hollows become more noticeable.
In the context of non-surgical facial rejuvenation, dermal fillers have become the gold standard treatment for smoothing lines, restoring fullness, and improving contours. These gel-like injectables are incredibly versatile and can be used to correct asymmetry, fill in scars, sculpt jawlines, and plump up areas that have lost fat and volume.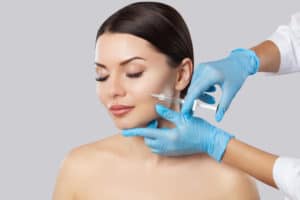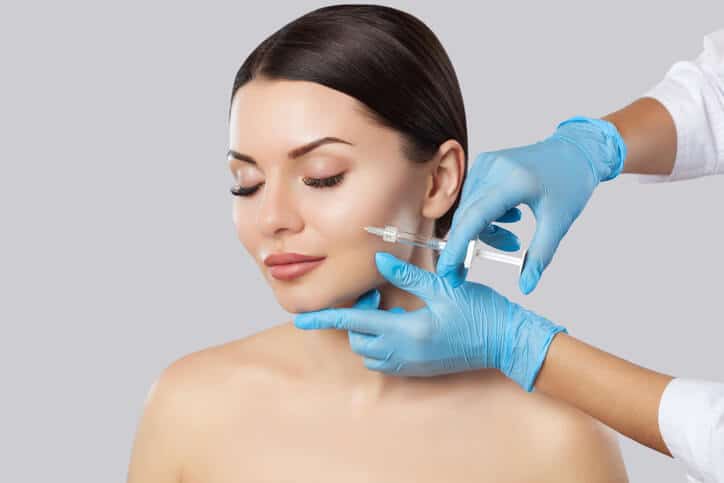 There are several FDA-approved cosmetic fillers used here at our Dallas dermatology office. Each varies in terms of fullness and consistency, and some products even stimulate collagen growth for long-term improvements.
Facial fillers have become increasingly specialized, providing more ways to fine-tune treatments according to patient goals.
What are dermal fillers made of?
All cosmetic fillers restore volume and fill in sunken areas, but they can vary in their formulation and method of action. Let's take a look at the active ingredients in today's dermal fillers.
Hyaluronic acid fillers
Dermal fillers made with hyaluronic acid (HA) can create nuanced results. Hyaluronic acid is a sugar molecule that naturally occurs in the body. It attracts water and keeps the skin hydrated. HA-based fillers typically last between 6 and 12 months and are utilized to minimize lines and wrinkles, plump up facial folds, and bring structure and support. This type of filler is often used to enhance lip size, correct nasolabial folds and under-eye hollows, and re-volumize sunken cheeks.
Hyaluronic acid fillers include the following products:
Restylane products: Restylane, Restylane Silk, Restylane Lyft, Restylane Refyne, Restylane Defyne, Restylane Kysse, Restylane Contour
Juvéderm products: Juvéderm XC, VOLUMA, VOLBELLA, VOLLURE
Calcium hydroxylapatite (CaHA) fillers
Calcium hydroxylapatite is another naturally-occurring compound that is primarily found in our bones. The tiny calcium particles integrate into the skin and create a scaffolding effect whilst also triggering the production of collagen. Calcium hydroxylapatite fillers are thicker and generally used to correct deeper creases and folds. Radiesse is the only approved filler in this category.
Injections can produce dramatic results for softening chin wrinkles, marionette lines, pre-jowl folds, and smile lines. The FDA also approved Radiesse for hand rejuvenation, as it improves the look of boney and veiny hands.
Poly-L-lactic acid fillers
Poly-L-lactic acid is a known collagen stimulator. While the substance is not produced by our bodies, it is biocompatible and has been safely used for years in medical devices. Sculptra Aesthetic is the only FDA-approved filler comprised of poly-L-lactic acid. Sculptra injections can replenish volume loss in deeper facial folds, and the results can last up to two years. The final results are gradual, since it takes weeks for the body to produce new collagen.
Sculptra is a great rejuvenating option even as a one-off treatment, thanks to its mechanism of action.
Get the look you want
When administered by qualified hands, dermal fillers can provide beautiful, natural-looking results. Find out which injectable is right for you. Book your Dallas Dermatology appointment today.