Acne is typically not something individuals outgrow. In fact, many people are blemish-free during their teenage years, only to develop painful breakouts as adults. Many factors can cause adult acne, and the quickest way to resolve it is by consulting with a skilled adult acne dermatologist.
Dallas Dermatology Partners can prescribe a personalized treatment plan to manage severe adult acne. After a thorough evaluation to determine if your breakouts are caused by fluctuating hormones, stress, medication, or genetic predisposition, we can recommend a therapy tailored to your needs.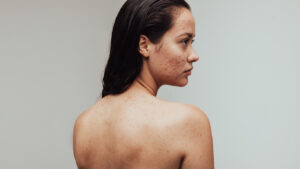 Types of Adult Acne
Adult acne tends to affect women more than men and can manifest in any of the following ways:
Papules and pustules – inflammatory lesions that result in scarring if picked at.
Blackheads and whiteheads – hair follicles that are clogged with dead skin and oil. Whiteheads are closed comedones while blackheads are open. Comedonal acne usually results from an overproduction of sebum.
Cystic acne – a severe type of acne characterized by tender pus-filled cysts deep under the skin–also prone to scarring
Nodules – solid, hard pimples that form under the skin. Nodules can become inflamed and very painful.
Acne rosacea – red, inflamed bumps are the hallmark of acne rosacea
Any adult acne can negatively affect confidence and self-esteem. It's best to consult with our dermatologists to determine the most appropriate acne treatment in Dallas.
Adult Acne Treatment Options
Adult acne treatments are designed to address the underlying problem, whether it's excessive sebum production, inflammation, bacterial infection, or a lack of skin cell turnover. The following are some of the acne treatments offered in our Dallas practice:
Topicals – Medical grade skincare products containing tretinoin, AHA, Vitamin C, and other potent ingredients can prevent occlusion of pores, minimize inflammation, repair the skin barrier, and support healthy exfoliation
Prescriptions – Oral antibiotics and prescription medications may be indicated in severe acne cases. These aim to reduce oil gland production while reducing bacterial infection.
Chemical Peels – A chemical peel for acne exfoliates the outer layer of skin and reduces the appearance of superficial scars. Peels can deliver impressive results in improving skin elasticity, texture, and tone.
Glycolic Peels – These gentle peels use a mild alpha hydroxy acid (AHA), ideal for sensitive and acne-prone skin.
Peels for post-inflammatory pigmentation – A custom chemical peel accelerates the skin renewal process and eliminates dark spots caused by acne lesions.
Diamond Glow Facial – The Diamond Glow microdermabrasion for acne is the gold-star treatment for smoothing texture, improving clarity, and reducing skin congestion. The Diamond Glow device extracts, buffs away dead skin cells, and delivers medical-grade products into the skin.
Adult Acne Dermatologists in Dallas
Improve your complexion, stop breakouts, and prevent scarring from adult acne by booking your Dallas Dermatology appointment today.