The gradual loss of facial volume and skin elasticity are a natural part of aging. If you've noticed your jawline drooping prematurely, rest assured that you are not alone. Many men and women are genetically predisposed to developing jowls in mid-life.
If you want to minimize the appearance of mild to moderate jowls, dermal fillers are an excellent, non-surgical solution. Injected in key areas of the lower face, fillers add volume beneath the skin while adding definition to sagging jawlines.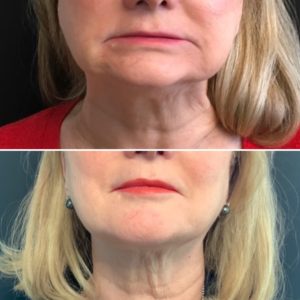 Fillers for Sagging Jowls
Fillers for the lower face work by replenishing the skin's own supply of hyaluronic acid. It binds to water molecules to give skin that plump, youthful look. Many of our patients who get cheek filler for jowls are impressed by the immediate, natural-looking results. Once injected, HA-based fillers recreate lost structure, counteract skin hollowness, and gently contour drooping jowls.
Dallas Dermatology Partners is thrilled to offer non-surgical jawline lifting and different fillers to help patients achieve their goals. Some of the most effective injectables include Juvéderm Voluma XC, Juvéderm Ultra XC, and Restylane Defyne. Like the Juvéderm family of fillers, Restylane is composed of hyaluronic acid.
Your dermatologist can determine the best filler to lift jowls depending on your skin laxity, problem areas, and aesthetic goals.
Sculptra Filler in Cheeks to Lift Jowls
Sculptra is another type of filler that restores volume– it is made of Poly-L-lactic that stimulates collagen production. It addresses laxity and crepiness while lifting the cheeks and lower face.
The choice between hyaluronic acid fillers and Sculptra for lifting jowls typically boils down to the amount of volume restoration needed, your age, and the desired longevity of results. Depending on the products used, results can last anywhere from 12 months to 2+ years.
Filler for Jowls: Pre-Treatment Tips
It's best to stop taking the following supplements one week before your filler treatment, as they have a blood-thinning effect.
Aspirin
Naproxyn
Ibuprofen
Vitamin E
Fish oil supplements
Gingko Biloba and Ginseng
A topical numbing cream may be applied during the procedure to increase comfort, but the entire treatment takes less than 25 minutes.
What to Expect Afterwards
Mild tenderness is to be expected after jowl filler treatment. Patients can resume normal activities, though it's best to avoid strenuous exercise for a day or two. Minor bruising is normal, but this usually resolves along with residual swelling in a few days.
Instant results are one of the main benefits of filler for jowls here in our Dallas office. Within minutes, patients see a noticeable lift in the lower face and a more sculpted jawline. If Sculptra were used, the results would continue to improve over the following months as the body ramps up collagen production.
Customized Jowl Treatment in Dallas
Ready to say goodbye to sagging jowls with an experienced dermatologist? We'll create a customized treatment plan that provides natural yet measurable results. Book your Dallas dermatology appointment today.