Looking for the safest and quickest way to correct visible signs of aging skin without major downtime? BBL Hero delivers the latest in skin rejuvenation technology by harnessing the power of broadband light. HERO stands for "high energy, rapid output," and this system has been proven to rejuvenate photo-damaged skin five times faster than your standard BBL treatment.
With broadband light therapy treatments using the Sciton Hero device, you can comfortably treat a wide range of skin concerns for a more youthful appearance. The BBL Hero is the next generation of laser skin rejuvenation Dallas patients turn to for improvements in tone, clarity, texture, and brightness.
The BBL Hero is the latest in Broadband Light Therapy, which uses intense pulsed light to treat mature and sun damaged skin on a cellular level. Innovations of the Hero laser over conventional BBL therapy include:
Light therapy is delivered 4X faster
Shorter pulse widths enhance safety
Twice the cooling comfort thanks to thermoelectric monitoring
Multi-pass treatments and high repetition rates for optimal results
Address several skin concerns in a single session
The BBL Hero laser is used in both our laser resurfacing treatment and photofacial treatment. 
Broadband light therapy with the Sciton Hero slows down the way your skin ages, and can be used to prevent – as well as correct – the signs of photo-aged skin. Our patients see excellent results in the treatment of:
Hyperpigmentation such as sun spots and freckles
Uneven skin tone
Redness
Rosacea
Dull and rough texture
Acne
Acne scars
Vascular conditions such as cherry angiomas and telangiectasias
Mild skin laxity
Unwanted hair
A single BBL Hero pulse lasts just milliseconds and has three times the peak power for more effective results. The targeted broad beam light triggers skin cells to produce new collagen, making it smoother, more elastic, and vibrant.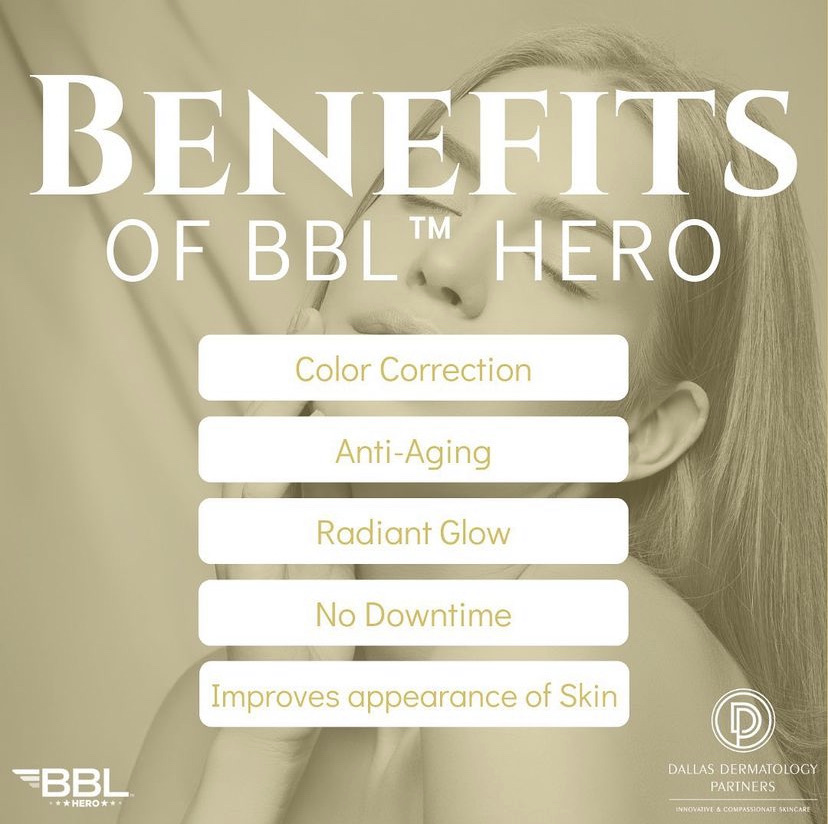 The BBL Hero is equipped with interchangeable Smart Filters and Finesse Adaptors to adjust laser energy wavelengths as needed. This allows our team to customize the broadband light treatment for the face, neck, chest, hands, arms, stomach, legs, and the entire body.
Our patients can expect little downtime, minimal pain, and amazing results with BBL light therapy. The procedure can be performed during a lunch break. A topical anesthetic is applied and the BBL Hero device is passed over the skin, bathing it in rapid pulses of high-intensity light. The treatment is not painful and is generally over in 2-20 minutes.
Our dermatologists will personalize a Hero laser resurfacing Dallas treatment plan that fits your lifestyle and concerns during the initial consultation.
Immediately following the procedure, your skin may be pink and feel sunburned. You will be given a moisturizing cream to apply and can resume normal activities, but must avoid sun exposure for at least 2 weeks. Patients must be extra diligent about using a broad spectrum sunscreen for one month after the BBL Hero treatment. Residual redness should resolve within 10-14 days.
Within 2-3 weeks, most patients see initial improvements in skin tone, texture, and firmness. While dramatic results can be realized in a single BBL Hero session, most people will need 2-4 sessions to achieve their desired outcome.
BBL Hero benefits include:
More comfort
Little to no downtime
Faster treatment times
More versatility to customize the procedure according to skin tone and the condition being addressed
The treatment stimulates more collagen for skin tightening results that can truly turn back the clock. 
After the initial 3-5 sessions, we recommend to continue treatments every 3-6 months for maintenance. The BBL Hero treatment can restore the gene expression pattern of photoaged and intrinsically aged human skin to resemble younger skin, thus regular treatments are recommended to combat the aging process.
BBL Hero Treatment in Dallas
Schedule a Dallas dermatology appointment today to find out if you're a candidate for skin rejuvenation with the revolutionary BBL Hero laser. Our office is centrally located to residents in Dallas/Fort Worth, including Addison, Plano, Richardson, and Frisco.